Written by Paul Angone There are two cold hard facts I learned in my twenties:
1. Your twenties can be really hard.
2. Finding success in your twenties (or thirties, forties, etc.) can be even harder!
Today I am excited to shine sweet rays of light on both these facts.
First, I get to help take the sting off twentysomething life with my upcoming book 101 Secrets for your Twenties releasing this July 1st. It's the most honest, hilarious, and vulnerable book I could write about the ups-and-downs of a decade filled unknowns.
Second, I am giving everyone the opportunity to have their writing go straight to the desk of my publisher and included in a published book!
Let me explain.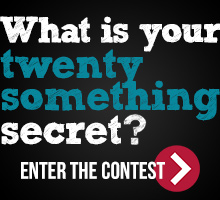 101 Secrets for your Twenties
As anyone who has been following my story knows, this has been a seven-year writing journey for me to see my first book in print. I have been passionate about writing this message for twentysomethings for years, but had to go through a 2,555 day journey filled with "no", "try us later," and "we love your writing, but we can't take on new authors without a platform."
Cue the long walk on a pier, in the fog, to violin music. You know you're becoming a writer when you feel like your heart has been broken into pieces and sold on the black market. Time and time again.
Then less than a year ago I wrote a post on All Groan Up called 21 Secrets for Your 20s, which went viral thanks to my amazing tribe of passionate readers and has now been viewed by more people than live in Wyoming and Barbados combined.
All it takes is one spark to set all your hard work on fire.
During this seven-year journey I've learned some hard, valuable writing lessons:
If writing is solely about being published, you'll stop writing.
Writing isn't about external accolades; it's about how it changes you in the process.
The possibility for greatness and embarrassment both exist in the same space. If you're not willing to be embarrassed, you're probably not willing to be great.
The publishing business is sometimes more about the number of followers you have than the message you're trying to tell. But it's not about that today.
101 Secrets for your Twenties Writing Contest
I am very excited to announce the 101 Secrets for your Twenties Writing Contest where anyone has the opportunity to submit their #1 Top Secret for Rocking Life in your Twenties -- basically, if a struggling twentysomething was sitting across from you at a coffee table, what one piece of advice would you give them? Even if you're a twentysomething yourself, what's one thing that is really helping you through?
Your entry will go straight to my publisher Moody Collective (no agents, proposals, 10,000 Twitter followers required) for possible publication in the expanded 101 Secrets for your Twenties ebook, along with your article, bio and website featured on All Groan Up.
I already have a few surprise prominent bloggers and authors who will be appearing in the expanded ebook and now I want to give you the opportunity to be there right next to them.
Entry Requirements: Submit your #1 Top Secret for Rocking Life in your Twenties. It can be funny, engaging, sarcastic, serious or light-hearted. Anywhere between 50-500 words, with the structure being a 1-2 line "secret" at the top and the rest of the article expounding on that secret. If you want to receive a sneak peak from 101 Secrets for your Twenties you can snag one for free at the 101 Secrets for your Twenties book page.
Submission Deadline: Submit your top twentysomething secret directly to Moody Collective at moodycollective@gmail.com by June 24th, 2013 for consideration in this contest.
Winners Announced: Winners will be chosen by Moody Collective and then announced through All Groan Up on Monday July 15th. Winning entries will be included in the 101 Secrets for your Twenties expanded ebook, as well as featured on All Groan Up. I will then be giving this expanded 101 Secrets for your Twenties ebook away for free to anyone who purchased the print copy of 101 Secrets for your Twenties during the first two weeks of July. As you help spread the word about 101 Secrets for your Twenties as we build up to the launch, then thousands upon thousands of people might be reading your name in the expanded ebook.
Submit Your Twentysomething Secret
Gain amazing exposure from a targeted twentysomething audience base, be featured next to other published authors and prominent bloggers in a published book, and have your writing reviewed by a publishing house who is solely focused on publishing books for the next generation of leaders, influencers, and creators.
You never know where this could lead.
I can't wait to tell the world our secret!
---
About Paul
Paul Angone is the creator of All Groan Up, a community for twentysomethings searching for self, faith, and a freaking job. Snag a free copy of his ebook 21 Secrets for your 20's and follow him at @PaulAngone.