Hidey, ho good neighbors! It's Thursday, which means it's time for our fourth giveaway this week. It also means that we're one day closer to Friday :) And yes, even though I no longer work in an office, I still look forward to Fridays!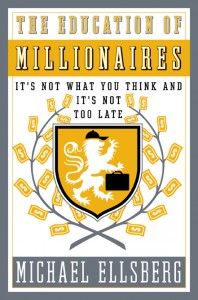 Today's book is a game-changing one. I've already shared the impact that author Michael Ellsberg had on my life a few months ago -- it's thrilling to see him release those same ideas and calls-to-action with the world in his latest book, The Education of Millionaires: It's Not What You Think and It's Not Too Late.
My blog started as an exploration of life after college (it still is, of course) -- I read countless business and development books to help me navigate feeling lost and confused as the only entry-level employee at the start-up, teaching myself dozens of skills that I never learned in college.
Ellsberg's book is a referendum against the notion that higher education is mandatory for self-made success (in fields other than law and medicine that require highly trained professionals). The book comes at a critical time as more and more graduates find themselves buried in debt but without jobs to show for it.
Through dozens of in-depth interviews with movers and shakers, Ellsberg uncovers what he sees as the seven key self-education categories for career success -- that they DON'T teach you in college.
The millionaires he interviews are self-taught and self-made -- and their stories are inspiring for anyone who is looking to rely less on others (school, teachers, managers, companies) for career success and more on themselves and their highest creative faculties.
The seven key success skills Ellsberg highlights are:
How to make your work meaningful and your meaning work
How to find great mentors and teachers, connect with powerful and influential people, and build a world-class network
What every successful person needs to know about marketing, and how to teach yourself
What every successful person needs to know about sales, and how to teach yourself
How to invest for success (the art of bootstrapping)
Build the brand of you (or, to hell with resumes!)
The entrepreneurial mindset versus the employee mindset -- become the author of your own life
This book is a page-turner and a must-read -- I read my advance copy on one cross-country plane flight, then immediately gave it to my brother and said "do not pass go until you finish this book." As I shared in my book endorsement (currently up on the Amazon page and the first one in his actual book!):
"This book is a masterpiece. Gripping and whip-smart, The Education of Millionaires will forever revolutionize your thoughts on the connection between education, career success and prosperity. Ellsberg is careful to avoid 'motivational fluff' and instead provides mind-blowingly sharp (and humorous) brass-tacks advice on how to profit handsomely by becoming a lifelong learner."
***
A recap on what I'm up to this week: September is one of the big months for book publishing, and as a thank you for being such great readers I've got some awesome books to share with all of you! I'll post an entry each day this week (bear with me, email subscribers!) and you'll have until Friday at 6pm ET to enter to win a copy of each book by answering that post's question prompt. I'll choose the winners via Random.org early next week.
To enter to win a copy of The Education of Millionaires: It's Not What You Think and It's Not Too Late, answer the following question in the comments:
What life skill has been most important to your success? Or, If you could tell a recent graduate to focus on just one skill to develop, what would it be and why?